News
Battle of Brazil - DH Austin Roundup
It's certainly been an exciting weekend, with bucket loads of Brazillian might coming to fruition as well as North America attempting to forge rivalries once again. Texas has certainly provided one hell of a venue for the event, boasting scorching temperatures backed by impressive landscapes, certainly quite the environment for a Counter-Strike event.
Either way, let's take a look at the first group and highlight some of the key moments, Group A!
As we mentioned earlier, the Brazilians, Luminosity, came in thundering as they swiftly removed of Splyce in a devasting 16 - 5 Bo1 on Train. C9 managed to steal some of that might, enabling them tp to incapacitate CLG with a smooth 16 - 1, on Cobblestone. Following this train of reckoning, LG came back once again to secure their top spot within groups, taking a victory over C9, 16 - 3, on Mirage.
Our first Bo3 matchup in Group A was set, both Splyce and CLG were set to battle over Train, Dust 2 and lastly, Cobblestone. Train was a close fight for both sides, though the first half certainly doesn't reflect that as an 11 - 4 half is delivered, thanks to the handy work of Splyce. Though unfortunately for them, this didn't work out well for them as CLG took the overtime comeback, chaining back-to-back rounds, closing out eventually 19 - 16. Second map was much smoother for CLG as they took the 11 - 4 half this time, though, they were able to close it out, claiming a 2 - 0 against Splyce.
The last Bo3 of Group A was an older rivalry of CLG vs Cloud 9. A matchup with a lot on the line as the winner would make it through to the playoffs. The maps were set, Cache, Mirage, Dust 2. In a similar fashion to our first Bo3, rounds were thrown together after long back to back economic battles from both sides, however, due to a few small mistakes from CLG and some big plays from Cloud9, C9 were able to take it 19 - 16. Moving into Mirage, C9 were able to dominate over CLG taking a 12 - 3 half. CLG fought back strong, claiming every single round in the 2nd half, denying a single opportunity to C9 to bring themselves back into it, eventually taking the map 16 - 12. The last map of the series, Dust 2, was much closer, with the first half ending 10 - 5, towards CLG. Though C9, this time, made the come back claiming the series win over CLG, in the fashion of a 16 - 11 victory.
Thanks to these results, both Luminosity and Cloud9 were welcomed into the playoffs, whereas unfortunately for them, Splyce and CLG were sent home.
Group A
1.
Luminosity Gaming
2-0
32-8
+24
6p
2.
Cloud9
2-1
66-60
+6
6p
3.
Counter Logic Gaming
1-2
79-89
-10
3p
4.
Splyce
0-2
31-51
-20

0p
Moving into our second group, one that played out to be a much tougher group with a storyline left to unfold. Group B.
First up we saw Tempo Storm claim a win over NRG, 16 - 5, on Cache. This was followed by a 16 - 10 win from Liquid over Selfless, on Mirage. Tempo Storm struck again, in a similar fashion to Luminosity, taking another decisive win 16 - 10 over Liquid.
Our first Bo3 matchup in Bo3 was set to alight shortly, this time, NRG found themselves battling Selfless. Overpass proved to a challenge for both sides, though Selfless managed to squeeze ahead with a 10 - 5 in the first half. This followed by a close-knit 2nd half with some big rounds coming out from both sides, eventually ended up in a 19 - 16 win for Selfless. Though the question remains, will this follow suit with every other Bo3 so far, or will this storyline be a little different? That question was soon answered by NRG who came out strong with a 12 - 3 half on Train, albeit Selfless manage to find some rounds 2nd half but eventually NRG were able to take it 16 - 11. The last map, the decider, Cache, was set to be a strong map for both sides, with a 7 - 8 half being exchanged. Unfortunately for NRG, they were, however, unable to string together any further rounds aside from one, meaning Selfless took victory 16 - 8.
Liquid came out strong in the deciding Bo3, proving that they were the team who surely deserved to make it into the playoff bracket, alongside Tempo Storm. Taking a quick 16 - 3 win on Dust 2 before perhaps a little closer, but still all the less decisive, 16 - 10 win on Train.
This meant that both Tempo Storm and Liquid would be battling up against Splyce and CLG in the playoffs.
The playoffs were set, Luminosity to battle against Liquid, as well as Tempo Storm to play Cloud9.
With that said, Tempo's matchup was the first to take place, in the early mornings of last Sunday. The veto's came in, with C9 removing Mirage while Tempo removes Overpass. Leaving the overall series to consist of Cobblestone, Inferno and Cache.
The first map closed out a half of 7 - 8, sided towards C9, and it stuck that way as eventually, despite a strong effort from Tempo, C9 were able to take map one 16 - 13. Inferno was a showstopper as it dipped into overtime, something that seemed to be common in every Bo3 series so far. TS, this time, took the first half 9 - 6, which followed through as they traded rounds back to back, eventually taking it 19 - 16. This left us with our decider, Cache, a map that went much quicker than expected. With Tempo coming out strong with a 13 - 2 half, eventually, despite C9's efforts, winning out both the map and the series, 16 - 11.
Looking at our second playoff match, or otherwise looked at as the semi-finals, we saw Luminosity come up against Liquid. The maps were set to be Dust 2, followed by Train and lastly, Overpass. With the first map going rather smooth for LG, a good omen of what's to come as they walk all over Liquid, taking a 16 - 6 victory. Map 2 proved to be much closer as Liquid stepped up to the plate, however, unfortunately for Liquid, they had no response to the constant pressure from LG, with an eventual 16 - 14 win going to LG, a quick 2 - 0 series win.
This meant that for the first time, we would see two Brazillian teams, both mentored by each other, clash against each other in a grand finalist matchup. The veto went quickly, with LG removing Cache, TS removing Overpass, meaning that LG would go on to pick Mirage, Tempo picking Cobblestone, leaving us with a decider map of Train after two more bans came in on Inferno and Dust 2.
Tempo fought strong on both maps but nothing could hold back the prowess and overall more experianced LG as they took both maps 16 - 9, leaving both an excited and disappointed Tempo Storm, though, they were certainly proud none-the-less to have made it that far, its only a solid sign of whats to come from the Brazillian scene.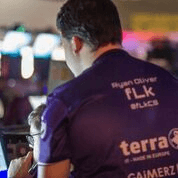 Ryan Oliver