News
Welcome to CAZ HALO!
Today at CAZ eSports we are very happy to announce the signing of our new UK HALO Team. Our new line-up has a lot of potential and we are excited to work with them for the foreseeable future. They are currently working on participating in the HCS Scuf League.
Please join us in welcoming them to the CAZ family!
---
CAZ HALO Roster:
Ed "Vard" Burrows (C) - https://twitter.com/CAZ_vard
Arkel "Snakey" Brown - https://twitter.com/CAZ_snakey
Daniel "Flamez" Young - https://twitter.com/CAZ_Flamez
Liam "Godshott" Healy - https://twitter.com/CAZ_Godshott
Read more about the team here: http://cazesports.com/teams/halo
---
Team Manager Josh 'MNSTR' McCarthy had the following to say about joining the organisation
"We are looking forward to working with the guys and girls at CAZ eSports, and are hoping to build a long and successful relationship with the organisation. We would like to thank CAZ for giving us the opportunity to represent them. And hope that we will bring nothing but success for the coming future."
CAZ eSports Operations Director Ben Bagg also made a statement:
"Since we are now firmly seated in the CSGO scene it made sense for CAZ to look into expanding. We have been wanting to return the console scene for a little while now and picking up this HALO team was a fantastic re-entry for CAZ Esports, we are very excited to see how things progress and look forward to working closely with Josh and the team"
Don't forget to follow us on all our social media to keep up to date on both the teams and our progression!
Twitter: https://twitter.com/CAZeSports
Facebook: https://www.facebook.com/CAZeSports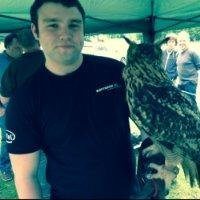 Ben Bagg